Fire Truck Final Inspections: Pierce's 3-Step Process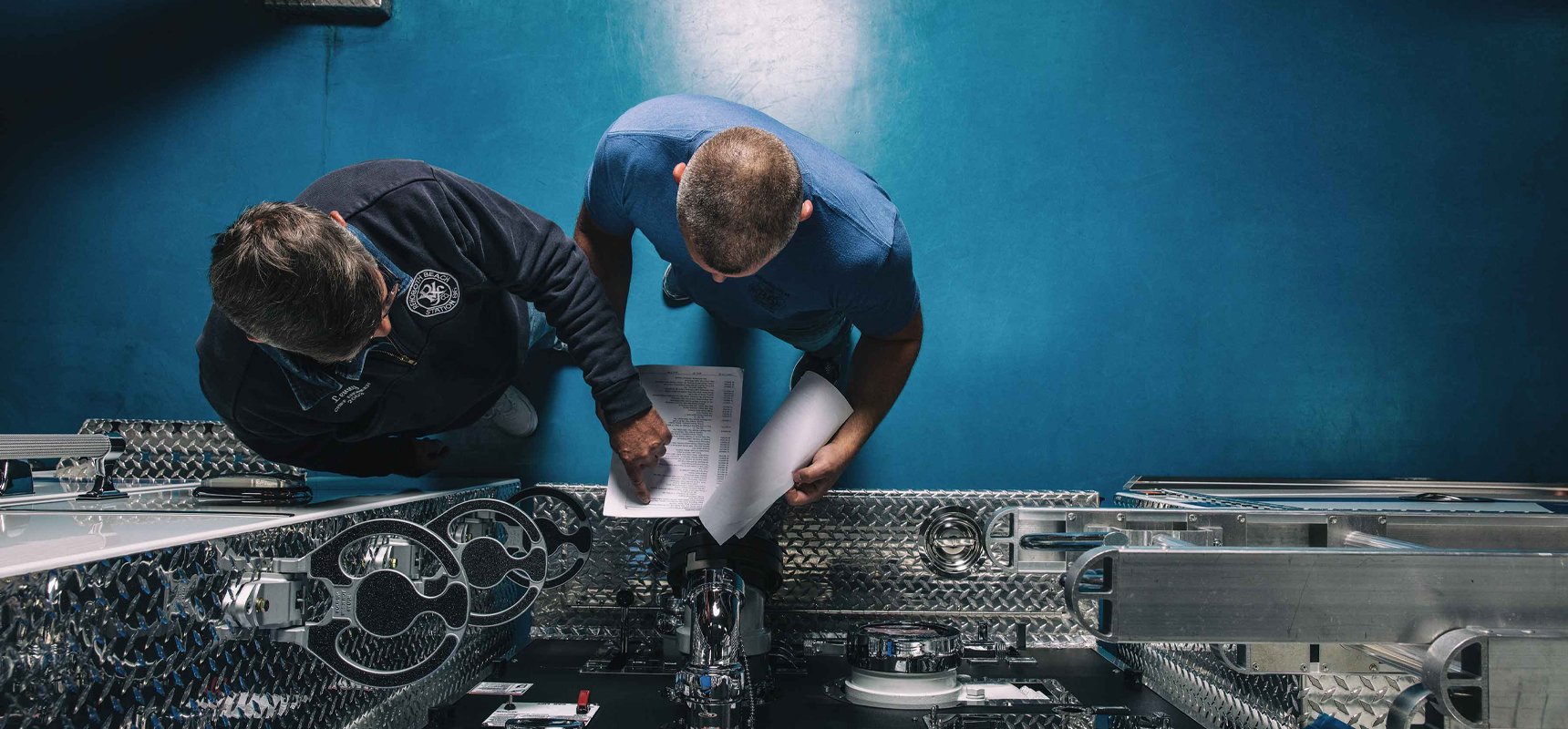 Manufacturing fire trucks takes attention to detail, innovative design and craftsmanship and employees driven by a passion for supporting first responders. Every truck makes a significant impact on the community it serves. As a result, before any truck is released from Pierce Manufacturing's facility, it must undergo an extensive final inspection process.
What Is Pierce's Fire Truck Final Inspection Process?
The final step in the manufacturing process allows fire department representatives the opportunity to inspect their fire trucks and test components as required. Over the course of a few days, the truck will be reviewed from bumper to tailboard, the undercarriage to an aerial device, to ensure every component, nut, bolt and screw is in optimal condition.
Learn the steps your fire department should expect during the final inspection process and the three-step process that has helped Pierce attain its reputation for exceptional quality and customer service, below.
Step #1: Final Product Evaluation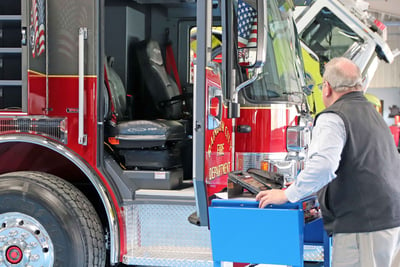 The final product evaluation is a critical step in the manufacturing process. During this evaluation, Pierce employees review between 150-200 points of inspection based on the truck model, design and any included custom components.
The goal of this final evaluation is simple: confirm the truck includes every item detailed in the customer order, is functioning as designed and meets Pierce's high-quality standards.
The final product evaluation typically includes the truck owner team and in some circumstances an engineer or requirements manager will support this team with items that need to be reviewed. This team completes an inspection of the apparatus with the customer order and reviews the list item by item.
If any items need to be addressed, from workmanship to assembly, the team writes up a task in Pierce's truck builder program. These tasks are reviewed and corrected and if required, the manufacturing process is adjusted to make sure repetitive issues can be identified and eliminated in future orders.
Once the final evaluation and required adjustments are complete, the fire truck undergoes an extensive detailing process. The entire truck is cleaned, buffed and polished to showroom quality condition, so it's ready for the final customer inspections take place.
Step #2: Final Inspection With the Customer
The final customer inspection usually includes firefighters from the purchasing fire department and the customer's dealer.
Typically, the customer will take their order and options-list and go through each item, one by one. Using an innovative computerized reporting system, called e-pickup, the customer can document any items they find that do not meet their expectations; these may include incomplete options or workmanship repairs, like a paint blemish, loose screw or wiring malfunction. Once these items have been documented, a Pierce manufacturing representative, the requirements manager, the customer(s) as well as the sales representative all review the list together so that everyone understands what needs to change.
Any requested repairs are also marked directly on the truck with a piece of blue tape, so the manufacturing team knows exactly where any changes or minor repairs need to be addressed.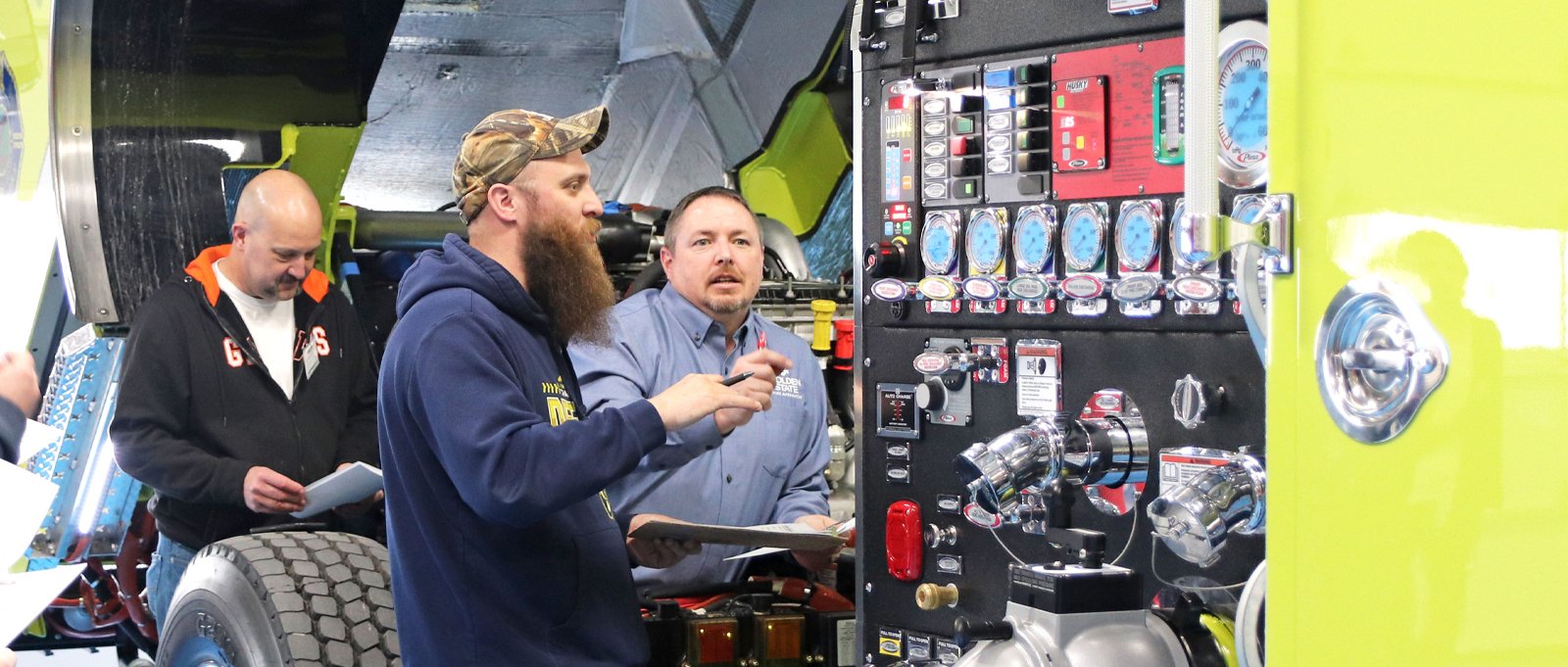 The Importance of Component Testing and Training
After an inspection of the apparatus, customers have the opportunity to drive the truck and test components. Depending on the type of chassis and selected components, this could include driving the truck, running the generator, testing aerial devices with a specialized Aerial trainer, or trying the Pierce Situational Awareness System by Fotokite.
During this time, the customer can review the parts, components and innovative technology with an experienced member of the Pierce team to be sure they fully understand all operating procedures.
A Focus on Quality and Consistency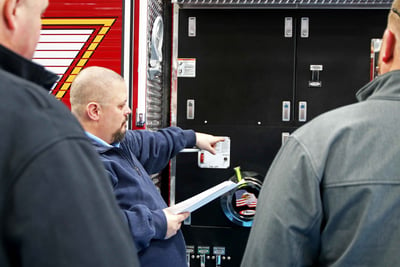 Pierce's final inspections are quality-focused, ensuring the best product for customers. But what key elements really set Pierce apart from other fire truck manufacturers?
Internal Inspection Comes First. At Pierce, the manufacturing team does a full inspection before a customer sees the final product.
All Employees Follow 'The Pierce Standard'. Pierce's high-quality standards must be met before anything is released for customer review. Additionally, the Pierce team is always learning and adapting best practices to adjust if they find a better way to complete a task or exceed customer expectations.
Truck Ownership Teams Know Their Customers. When a customer purchases more than one apparatus or a series of trucks, they are paired with a truck ownership team, who manages every truck they order. With this approach, Pierce employees really get to know their customers' needs and preferences, improving customer service and Pierce's ability to deliver an exceptional final product.
Learn more about why an experienced workforce matters in fire truck manufacturing.
Step #3: Final Adjustments Before Delivery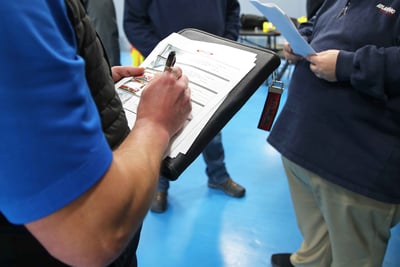 Once the Pierce team reviews the e-pick tool modification requests and completes a walk-around to review the marked blue tape areas of the fire truck, final adjustments are made.
Fire trucks are brought back to the manufacturing bays and every point of repair inputted is documented and photographed to show the customer all adjustments have been completed.
Once complete, the Pierce team does another 10-point inspection to confirm all final quality items are functioning appropriately. To provide the best possible customer service, the same team that completed the initial final product evaluation also reviews the customer modification requests and is involved in the final 10-point inspection. With this final inspection, the truck is released for shipping and prepared for final delivery.
A final 10-point inspection before the truck is released helps ensure every truck leaves Pierce facilities with the highest quality standards.
What Is Pierce's Fire Truck Delivery Process?
When your fire truck is ready for delivery, customers select an appropriate delivery date and location. The majority of deliveries are made directly to local dealerships through:
Dealer or Customer Pick-Up. Some customers and dealers choose to drive their fire trucks home immediately after everything is complete and ready to go. This can be arranged with the Pierce Manufacturing team.
Third-Party Delivery Service. Many fire departments choose to work with Pierce to arrange for third-party delivery. Pierce works with two providers, located in Wisconsin and Missouri, that offer Pierce-trained drivers. This is often the most convenient delivery option for fire departments.
U.S. Port. For overseas truck delivery, fire trucks are driven to the nearest U.S. port, where Oshkosh Corporation ISS group manages the final delivery.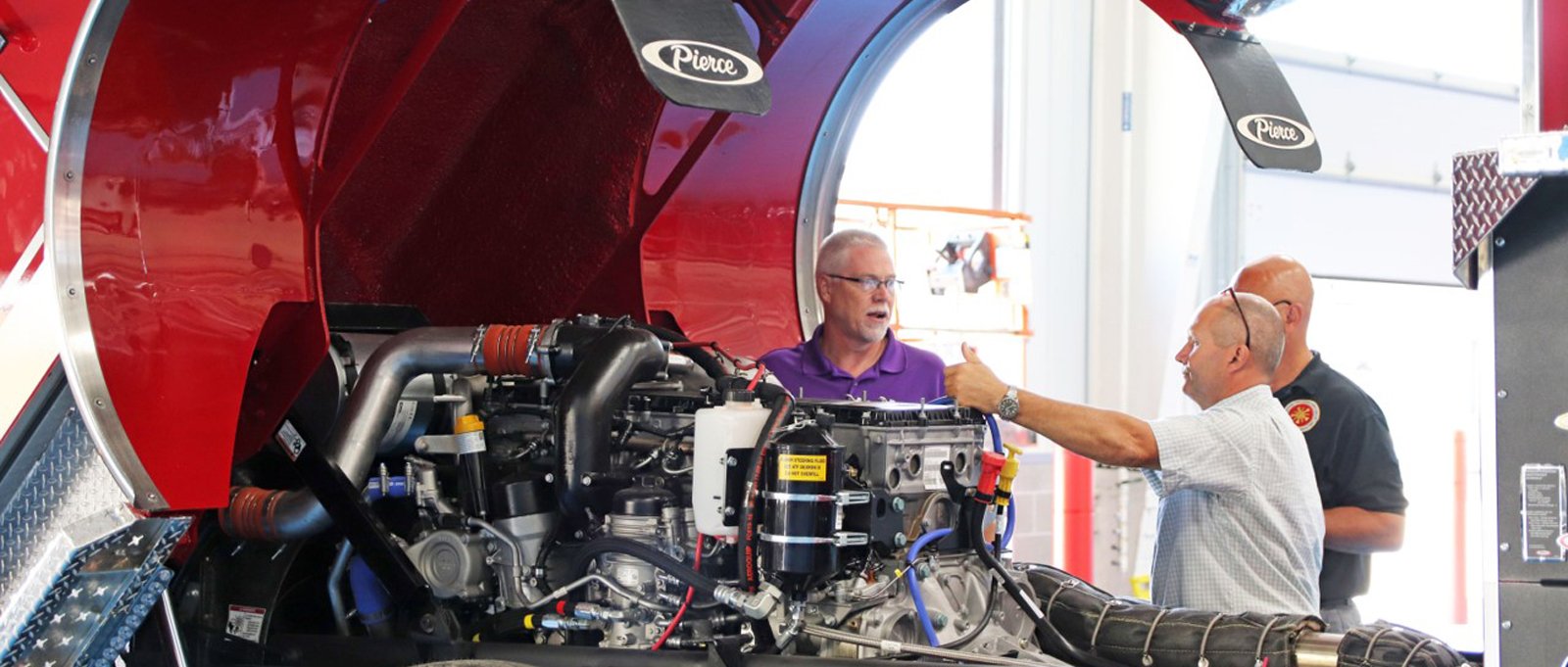 After your truck is delivered, consider the benefits of preventative maintenance and learn more about Pierce's parts and product support.
Behind every fire truck at Pierce is a team of dedicated employees whose mission is to create a custom fire truck according to the needs of a fire department. With this task, employees take great pride to ensure no detail is overlooked and the final product exceeds customer expectations.