What Is Fire Truck Crash Testing and Crashworthiness?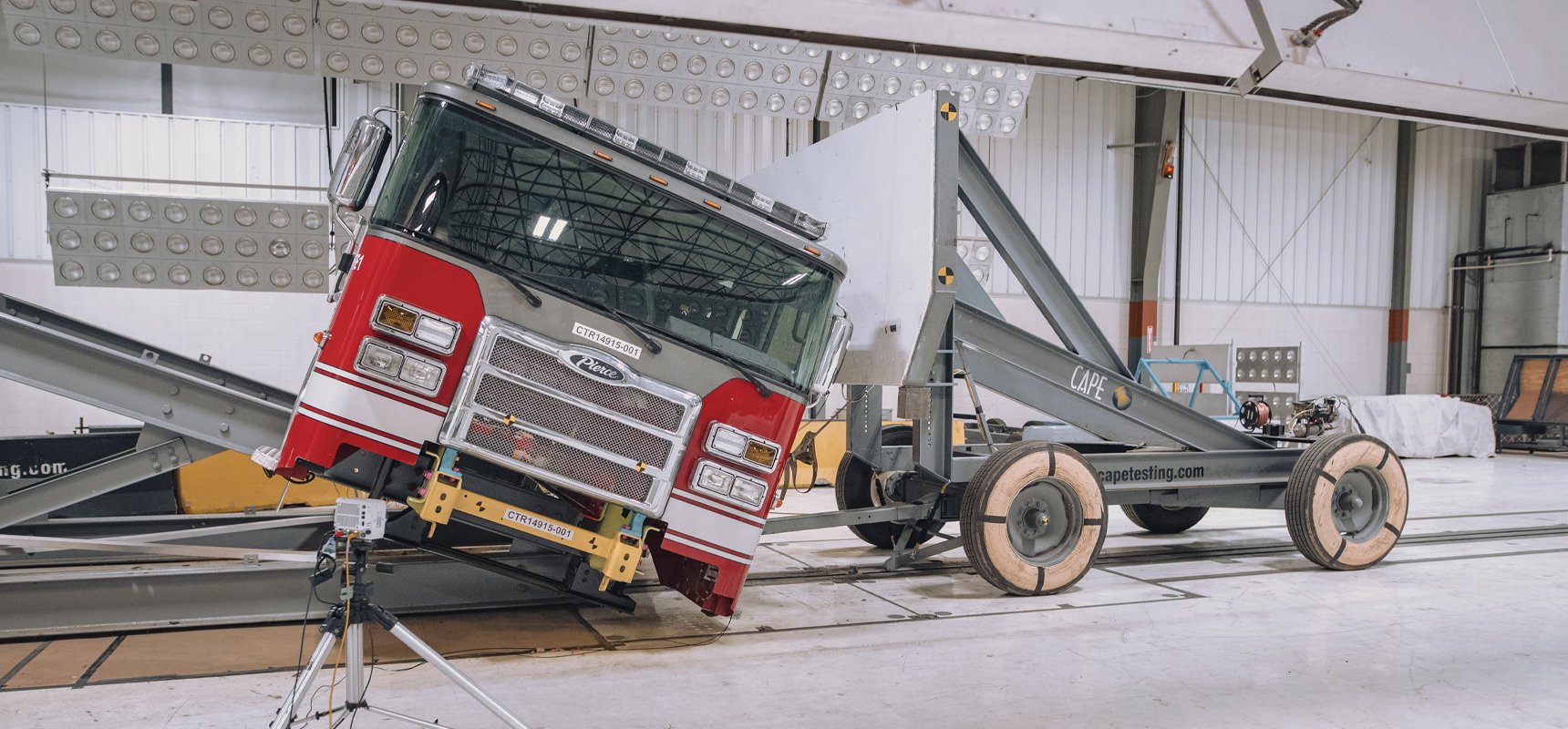 Fire truck manufacturers design apparatus to support the lifesaving work of firefighters. But fire truck design must go beyond supplying the necessary tools and fire suppression systems required at the scene of an emergency; they must protect the very people tasked with saving lives.
Following industry standards and regulatory body requirements, fire truck crashworthiness is a critical element of truck design, overall safety and innovation.
Continue reading to learn more about fire truck crash testing, the regulatory bodies that oversee cab safety, how crash-data is used to drive both safety and innovation, and how Pierce Manufacturing keeps firefighters safe on the job.
What Is Fire Truck Cab Crash Testing?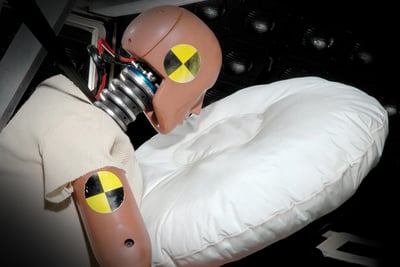 Fire truck cab crash testing is a process where fire apparatus are put through various tests, many of which are destructive in nature, to ensure the vehicle meets or exceeds industry standards.
Cab crash tests focus on the structural integrity of the cab area, including a determination of what happens to the structure of the cab and occupants in the event of an accident.
The forces a fire truck must be able to withstand in a crash are unique, and thus, specific testing procedures and standards are in place to appropriately protect vehicle occupants.
Each fire truck manufacturer may design and innovate unique fire apparatus cabs, but each cab must be crash-tested for safety following industry standards.
Fire Truck Crash Test Ratings and Regulatory Standards
There are several regulatory bodies and standards specifically designated for fire trucks with documented statutes focused on cab safety and crash test ratings and requirements.
Society of Automotive Engineers has several standards focused on the test procedures for cab crash simulations, including a cab roof strength evaluation (SAE J2422) and a frontal strength evaluation (SAE J2420).
National Fire Protection Association has published more than 300 consensus codes and standards intended to minimize the possibility and effects of fire and other risks.
National Highway Traffic Safety Administration issues Federal Motor Vehicle Safety Standards (FMVSS) focused on the mission to prevent and reduce vehicle crashes. FMVSS standards focus on crash avoidance, crashworthiness and post-crash procedures. In addition, North American and European standards also address occupant protection.
Fire truck manufacturers partner with IMMI and the Center for Advanced Product Evaluation (CAPE) to appropriately evaluate product safety according to established standards.
What Are the Requirements for Crash Testing?
Crash-testing requirements vary by the type of product or structure under evaluation. For fire apparatus cab safety, most tests involve analyzing reactions of critical components or assemblies using tests with various time durations. Results are measured with a pass/fail criteria according to standards and regulatory requirements. Some examples include:
Rollover tests to evaluate the safety of occupants in a fire truck rollover crash scenario.
Barrier tests to evaluate the effects of a frontal impact with a solid barrier or structure.
Cab integrity tests to determine if the cab meets industry standards, including whether the cab doors remain closed after impact and ensuring that the cab remains fixed to the vehicle frame.
Cab roof load tests to evaluate the ability of a roof to withstand a roof-crush and rollover accident.
When Does Safety Testing Take Place?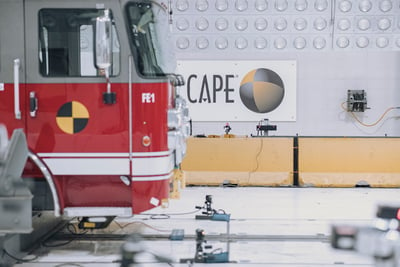 The majority of cab crash testing occurs during the initial product development stage of new cabs or chassis. Pierce Manufacturing has the capabilities and expertise to simulate crash testing of new products in the development phase, but there are many steps that occur before a physical crash test is completed.
When a new cab or chassis is in the design phase, Pierce engineers run the model through a Finite Element Analysis (FEA). This computer-based simulator allows the team of engineers to review the functionality and crashworthiness of a product and determine where more support or alterations may be required in the design. The FEA simulator is used throughout the design process to continually test the structure and safety of a new cab or chassis.
When a new product passes all FEA testing, Pierce will manufacture a prototype and complete a physical crash at CAPE's facilities to ensure the safety and integrity of the structure.
How Crash Data Drives Innovation
Beyond crashing trucks into barriers and walls, Pierce also completes other product and safety tests in-house. A seat belt pull test, for example, is a destructive test that uses a hydraulic pull to test a seatbelt against the current FMVSS standard.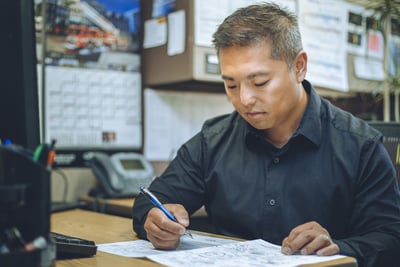 Not only does Pierce test products and structures to meet industry standards, Pierce often tests products to failure to see what type of safety factor exists inherently in the design. The ability to do in-house testing and evaluate product safety throughout the design process allows Pierce to maintain a record of results-focused data to drive future innovation and design.
When a customer requests a unique truck feature, system addition or configuration, Pierce has the safety and crash-test data to help determine the appropriate design possibilities. As such, Pierce can use data to drive innovation and future development while maintaining a primary focus on safety.
How Does In-House Testing Benefit Customers?
The in-house testing capabilities at Pierce provide several benefits to customers. Customers can feel confident in both the quality and safety of each cab or chassis.
Pierce's test engineers control the parameters of the tests and test to failure. This information affords Pierce with a better sense of precisely what the cabs can withstand and where additional reinforcement and safety support can be added. Pierce's crash test data is used in innovation, research and development, which allows Pierce to continually deliver industry-leading truck design.
As a result of Pierce's testing processes and focus on innovation, Pierce was the first fire truck manufacturer to integrate side roll protection into its chassis. Additionally, Pierce created TAK-4 suspension, which is an independent front suspension to help improve apparatus stopping abilities. Pierce was also the first in the fire industry to sell electronic stability control to help operators maintain directional control of fire apparatus during lane changes and cornering maneuvers.
See how Pierce has been leading the fire industry in apparatus innovation and design. View this timeline of advancements now.
From the time the first component is designed until after the last bolt is secured, Pierce Manufacturing is dedicated to designing and building world-class fire apparatus with a focus on protecting the safety of firefighters.
From pre-construction to delivery, our highly trained team of fire apparatus specialists will walk you through every-step to ensure your new apparatus is built from the ground up – just the way you want it. No one works more closely with their customers to configure each vehicle around their demands. Give us a call at 800-784-6806. Our dedicated sales and service team stand ready to assist you.